Great Rajputs Warriors And Their Sacrifices For Their Nation
1) Bhappa Rawal

Bappa Rawal played an important role in the Battle of Rajasthan, a series of wars fought in the 8th century AD between the regional rulers of North-Western India and the Arabs of Sindh, in which the regional Indian rulers inflicted a resounding defeat on the invading Arabs. In the 8th century Arab Muslims started attacking India within a few decades of the birth of Islam, which was basically an extension of invasion of Persia. In order to ward off Muslim invasions across the western and northern borders of Rajputana, Bappa united the smaller states of Ajmer and Jaisalmer to stop the attacks. Bappa Rawal fought and defeated the Arabs in the country and turned the tide for a while. Bin Qasim was able to defeat Dahir in Sindh but was stopped by Bappa Rawal. Some accounts say that Qasim attacked Chittor, which was ruled by Mori Rajputs. Bappa, of Guhilot dynasty, was a commander in Mori army and so was Dahir's son. Bappa defeated and pursued Bin Qasim through Saurashtra and back to the western banks of the Sindhu (i.e. current day Baluchistan). He then marched on to Ghazni and defeated the local ruler Salim and after nominating a representative returned to Chittor. After Raja Mori named Bappa Rawal his successor and crowned him King of Chittor, Bappa Rawal and his armies invaded various kingdoms including Kandahar, Khorasan, Turan, Ispahan, Iran and made them vassals of his kingdom. Thus he not only defended India's frontiers but for a brief period was able to expand them.
4) Maharana Sangha(Sangram Singh)
5) Maharana kumbha(kumbkaran Singh)
6) Jaimal fatta(Jaimal Singh & Fatah Chand)
11) Veer Durgadas Rathore
12) Jaita and kumpa of jodh

pur
13) Maharaja vidhyadhar Chandela
19) General Zorawar Singh
26) Shalivahan Singh Tomar(Tanwar)
27) Rao Surtan Singh Deora
32) Sanjam rai (Prithviraj chauhan z friend)
33) Chaudhary Roop chand of chamkaur sahib
34) Ram Shah Tomar of Gwaliar with four son, s and with all brothers.
36) Rani Padmani and Rawal Ratan Singh
37) Rani Karnavati of Chittorgarh
38) 52 RAJPUT KINGS

52 Rajput Raja, z of Bharat who didnt accepted Akbar as a Badshah of Bharat.and didnt gave there daughters to him in marriage alliance were impresened in Gwaliar fort .
39) Bajjar Singh Rathore

Bajjar Singh Rathore was the weapon and arm trainer of Gobind Rai later become Tenth Sikh Guru Gobind Singh ji.
41) Shat Shat Naman To All The Civilians Of Chittorgarh Who Gave their lifes but not Religion.

30 thousand (approx.) civilians of chittorgarh were beheaded by Akbar, s order after the saka and jouhar had been performed by Rajputs (Jaimal fatta) and there queen z and daughters and kids.These 30 Thousand civilians had two options first accept Islam second Death.All of them chosen Death .Akbar ordered to make a tower of human heads adjustant to famous Victory tower to make terror in the minds of whole Bharat.
42) Rao Baluji Puar (Punwar)

Rao Baluji punwar was the great grand father of Bhai Bachittar singh. He killed (Governor of lahore) Murtaza Khan who killed Guru Arjun devji.Rao Baluji was very rich and powerful Rajput Raja of Alipur (Multan).Rao Baluji was 20th direct descendent of Great king Chakravarti samrat Raja Bhoja.He was the first from the family to go to sikh guru Hargobind sahib.and was very much impressed with Guru,z philosophy and was one of his General in his Army.Bhai mani singh's father Rao Maidasji was also rich Rajput ruler and held the rank of Amir-I-Azam in Shahjahan's court.
47) Rao madini rai of chanderi
49) prithvi narayan Shah was the founder of nepal.
50) Kalyandas Rathore fought with Akbar
51) Mulraj Solanki

Mulraj Solanki defeated Graharipu a mlechcha who was oppressing Brahmans, and then worshiped at Somanth temple.
52) Naikidevi

Solanki Rajputs defeated Muhammad Ghori in 1178. Bhimdev Solanki II's mother, Naikidevi , who controlled the army due to her son's young age, inflicted a huge defeat on Ghori in Kayadra, a village near Mount Abu. After the thrashing, Ghori never returned to Gujarat.
53) Jaam Narpat ji (Jadeja) :

Jaam Narpatji Cut down the head of Pirojshah Padshah of Gazni in his own Court of Gazni, showed magnificent Valor n Became The King Of GAZNI..!!
54) Jaam Abdaaji 'Adbang' (Jadeja) :

To save 140 muslim women fought with the huge army of Allauddin Padshah of Delhi n Became Martyr..!!
55) Jaam Sahebji, Pabaji n Ravaji (Jadeja) :

Fought with Mirza Isa n Mirza Sale of Sindh in the War of Zara (1st) n Successfully Defeated them..!!
56) Raaysangji Zala of Halwad :

Fought with panjhathha pahelvaan, Padshahi Kushti-baaj in the Court of Akbar..!! Zala Sardar Pushed down the head of padshahi Pahelvan into his Own Body..!! Example of Magnificent Strength..!!
57)Jaam Sataji, Kunwar Ajaji, n Meramanji hala (Jadeja) :

Fought with the Army of Akbar to Save the ex. King of Ahemedabad, Muzzaffar Shah..!! They Lost war n became martyr because Nawab of Junagadh betrayed Jadejas of Jamnagar...!!
58) Rao Deshalji Jadeja:

He Fought with Sher Bulandkhan, an Iraani Invader.. inspite of having few warriors Rao Deshalji n Jadeja bhayats crushed down Iraani Army n invaders ran Like a mad dog..!!
59) Lakhaaji Jadeja of Vinzan :

He Fought with Gulamshah Kalhora of Sindh in the 2nd war of Zara, N became martyr showing magnificent Valor..!!
60) Ranji Gohil :

He Fought fiercely with padshah of Ahmedabad n defeated him. But after one misunderstanding the Queens of Gohil Sardar performed Johar, after loosing all Queens, Gohil Ranji went back alone to the Army of Padshah n again started to kill enemies n became martyr...!!
61) Mokhdaji Gohil :

Fought with the mighty army of Padshah of Delhi..!! Even after being Beheaded Mokhdaji Crushed Down the Invaders showing Magnificent Valor n became Martyr..!!
62) Hammirji Gohil :

To Save the Sacred temple of Somnath, Hammirji fought with the huge army of Muzzafar shah n sacrificed his life at the age of 16 year..!!

Hamirji Gohil , the Rajput chieftan of Lathi, took on the massive army of Sultan Mahmud Begada, who attacked Somnath in the 15th century. Hamirji had said, ' Bhale koi aave na aave maari saathe, pan hoon jais Somnath ni sakhate ' (Whether anyone comes or not comes with me, but I will go to protect Somnath).
63) Lakhdhirji Parmar of Muli :

To save the daughter of Hebat khan from the hand of Sumra padshah of Sindh, Parmar Sardar n their bhayats fought fiercefully with the army of Sindh n Sacrificed their Life..!!
64) Raa' Navaghan :

The Lion of Junagadh, Raa' Navghan ji attacked on Sumra Padshah of Sindh to save His Sister Jahal, and crushed down the army of Sumra in their own Land, Sindh, n Killed Sumra Padshah..!!
65) Veersinh Vaghela :

Chieftain of Kalol, Veersinh fought with Mhmd Begda because begda wanted to marry the Beautiful Queen of Vaghela sardar.. Veersinh Fought fiercely and became martyr but did not bow down inspite of having a Small Army..!! The Queen also committed suicide in the well after the death of Veersinh..!!
66) Karandev Vaghela :

King of Gujarat, Karandev, fought with mighty army of Alla-uddin-khilji and loose the war, but did not bow down and continued to fought n stayed in the jungles, until he became martyr..!!
67) Veerdhaval Vaghela n Bhimdev Solanki :

Vaghela sardar of Army of Patan, Veerdhaval ji n Bhimdev Solanki (2nd)of Patan, fought with Huge army of Mhmd Ghori, in the mountains of Abu n crushed down his army n Successfully defeted him..!! Veerdhavalji n Bhimdev also defetd Kutu- buddin Aibak n drove his army away of Gujarat..!!
68) Sardar Baaj Singh.

Sardar Baj Singh was the second of eight sons of Rao Nathiaji Puar. His elder brother was Sardar Bhagwant Singh Bangeshwar. Bhai Mani Singh was his cousin.

He was an EX-umrah of Sarkar-e-Bangash on whose throne was his elder brother Sardar Bhagwant Singh Bangeshwar. He led a cavalry of 2000 horsemen. He was much acclaimed for his bravery and ferocity.

In the battle of Sirhind fought at Chappar Chiri in May 1710, Baj Singh was in command of the right wing of Banda Singh`s army. He faced Nawab Wazir Khan in the battle striking his horse down with a lance. This led to the fall of Sarkar-e-Sirhind. Sardar Baj Singh became first governor of Khalsa Raj after this battle.It said by the writers of the Mughal court in their memoirs, that at Baj Singh's execution, the Mughal emperor Farrukhsiyar asked tauntingly where is the brave Baj Singh whom whole Mughal army feared, where is his bravery now? Baj Singh was shackled, but replied I am Baj Singh. You have tied my feet and hands in iron chains, open one of them i will let you know of my bravery. Then his feet were freed, but with his hands still tied. Baj Singh snatched the sword of a nearby soldier and killed 16 men on the spot while the emperor fled.[
69) Sardar Bhagwant Singh Bhangashwar.

Sardar Bhagwant Singh Bangeshwar (Sarkar-i-Bangash Umra-i-Azam Sardar Bhagwant Singh ) was an Indian ruler of bangash ( in present day punjab state of pakistan ) of 18 th century . He was a scion of the great Puar rajput dynasty and cousin brother of Bhai Mani Singh .

Rajput kings (

Kshatriya ) have their dharma to give protection from harm according to Lord Krishna in Bhagavad Gita and Sardar Bhagwant Singh being a true rajput could not silently see atrocities being done on the weak although most of his ruling rajput counterparts had left their true kshatriya dharma . Sardar Bhagwant Singh shook the Mughal rule in Punjab and laid the foundation of Khalsa uprising without caring much of his high princely status.In two centuries after 1500 Rajput rulers began to take high positions in Mughal court. Apart from being a ruler he was a fierce warrior too, which led Aurangzeb to make him a panj-hazari mansabdar and give title of umar-i-azam which was highest mansab given to rajput rulers.He was engaged in a battle with kamal khan who was Mughal commander of attock fort . He killed kamal khan in a fierce battle and made the Mughals fear his might .Wazir khan ( Sarkar - i - Sirhind ) had a mansab of 2000 horsemen under Aurangzeb which was much less as compared to mansab of 5000 horsemen of Sardar Bhagwant Singh ( Sarkar - i - Bangash ), so Wazir Khan's defeat was certain. Sardar Bhagwant Singh along with his seven brothers and Banda Singh Bahadur( whom Guru Gobind Singh sent with them acknowledging him as Guru's son ) made his sword bath in tyrant's blood and ruined the Mughal rule in Sirhind which was a very big mughal subah extending from Sutlej to Yamuna. His one brother Sardar Baj Singh ( First Governor of Khalsa Raj ) was made governor of Sirhind and one more of his brothers, Sardar Ram Singh was made governor of Thanesar. He kept his word given to the Guru.
Jauhar And Saka
Jauhar is the burning to death of the queens and female royals of Rajput kingdoms and by entire Rajput communities when facing defeat at the hands of an enemy. This was the voluntary act performed by the Rajput women .The most famous Jauhars in recorded history have occurred at the end of Rajput battles with Muslim empires. It was followed by the Rajput clans in order to avoid capture, enslavement and dishonour at the hands of invaders. The term also describes the practice of mass self immortal carried out in medieval times by Rajput women to save their honour from invaders.
This practice Sati and Jauhar is totally different from each other and at different occasion. Sati was a custom performed by widowed women only, while Jauhar and saka were committed while both the partners were living and only at a time of war.
When defeat at the hands of enemy was imminent, the women, dressed in wedding finery, immolated themselves, then the men, bearing saffron coloured dress, attacked the enemy. For men who had been raised their whole life as warriors, nothing was considered more honourable for the Rajput male than to fight and die on the battlefield. The upset caused by the knowledge that their women and younger children were dead, no doubt filled them with rage in this fight to the death called saka.Rajputs are famous to fight till last man.
There are many instances of Jauhar and saka, but these are not well recorded. Maharani Samyukta, wife of Prithviraj Chauhan. the last Hindu king to rule Delhi, along with her ladies, committed Jauhar rather than surrendering to the Afghan invaders. King Vijaipal's wife committed Jauhar at the fort of Bayana, but this is based on ambiguous information from the fort of Timan Garh, now in the Karauli dist.
In the 14th century, the Ranthambore fort became the site for the first ever massive jauhar in Rajput history. All this happened during the reign of Raja Hammir Dev who was fighting the Allahu din Khilji forces. The women left behind in the fort came to know of Hammir's death in battle and consequently decided to perform Jauhar. However, Hammir was very much alive. On his return to the fort and learning about the jauhar, he beheaded himself before a statue of Shiva within the fort.
The first jauhar of Jaisalmer occurred in 1294, during the reign of Alauddin Khilji of Delhi. It was provoked by Bhatis' raid on a massive treasure caravan being transported on 3000 horses and mules. Alauddin Khilji was so outraged that his army marched upon Jaisalmer. Rawal Jethsi sent the children, elderly and sick, together with some troops to refuge in the desert and applied a scorched earth policy to the countryside surrounding Jaisalmer while building up a massive store of food within the fort. According to local ballads, the Bhatis defended the fort for 8 years during which the forces left outside of the walls occupied themselves attacking the supply lines of the besiegers. During the siege Rawal Jethsi died and was succeeded by his son Mulraj II. By 1294 the besiegers had received sufficient reinforcements that they were able to impose a complete blockage of the fort which soon exhausted the Bhati's ammunition and food. The Bhatis, facing certain defeat, decided there was no alternative but to perform the rite of jauhar. 24,000 women committed suicide, most on a funeral pyre though some were killed by the swords of their male relations when the pyre proved too small. The men 3,800, in number then threw open the gates of the fort and advanced to their death. For some years afterwards Jaisalmer remained abandoned before the surviving Bhatis reoccupied it.
In the late 14th century, Sultan Ferozshah also besieged Jaisalmer after a prince of Jaisalmer raided his camp at Anasagar Lake near Ajmer and carried away his prize steed. The siege led to the second jauhar of the prophecy, the suicide of 16,000 women and the death of Rawal Dudu and his son Tilaski together with 1,700 warriors.
During the 15th century the Bhatis once again reoccupied the site and continued to rule with some independence.
The "half jauhar" of the prophecy occurred in the 16th century when Amir Ali, an Afghan chieftain obtained Rawal Lunakaran's permission to let his wives visit the queens of Jaisalmer. Instead of a retinue of palanquins containing women they were full of armed warriors, which took the guards of the fort by surprise. When it seemed to the Rawal that he was fighting a losing battle he slaughtered his womenfolk with his own hands as there was insufficient time to arrange a funeral pyre. Tragically immediately after the deed was done, reinforcements arrived, sparing the men from the Jauhar and Amir Ali was defeated and blown up by a cannonball. Hence, it is called a half jauhar or Saka.
In 1520 Rana Sanga of Mewar captured the city, and gave it to Medini Rai, a rebellious minister of Sultan Mahmud II of Malwa. The Mughal Emperor Babur captured the city from Medini Rai and witnessed the macabre Rajput rite of jauhar, in which, faced with certain defeat and in an attempt to escape dishonor in the hands of the enemy, women with children in their arms jumped in a fire pit to commit jauhar,which was made for this specific purpose,against the background of vedic hymns recited by the priests.Jauhar was performed during the night and in the morning the men would rub the ashes of their dead women folk on their forehead, don a saffron garment known as kesariya,chew tulsi leaves (in India tulsi leaves are placed in the mouth of a dead body),symbolizing their awareness about impending death and resolve to fight and die with honour. This method of fighting & dying for the cause of retaining honour was called "SAKA"
First Saka at Chittorgarh, King Ratan Singh gave orders that the Rajputs would open the gates and fight to death with the besieging troops. On hearing of this decision, Padmini decided that with their men-folk going into the unequal struggle with the Sultan's army in which they were sure to perish, the women of Chittor had either to commit the divine suicide jauhar or face dishonour at the hands of the victorious enemy.
The choice was in favour of suicide through jauhar. A huge pyre was lit and all the women of Chittor jumped into the flames after their queen, thus depriving the enemy waiting outside. With their womenfolk dead, the men of Chittor had nothing to live for. They decided to perform saka. Each soldier got dressed in kesari robes and turbans. They charged out of the fort and fought with the array of the Sultan until all of them perished. After this pyrrhic victory, the Sultan's troops entered the fort only to be confronted with ashes and burnt bones.The women who performed jauhar perished but their memory has been kept alive till today by bards and songs which glorify their act, which was right in those days and circumstances. A halo of honour is given to their sacrifice.
Second jauhar happened when Rana Sanga died in 1528 AD after the Battle of Khanua. Shortly afterwards, Mewar and Chittor came under the regency of his widow, Rani Karnavati. The kingdom was
menaced by Bahadur Shah of Gujarat, who besieged Chittorgarh. Without relief from other forces and facing defeat, the Rani committed Jauhar with other women on March 8, 1535 A.D., while the Rajput army rallied out to meet the besieging Muslim army and committed saka.
Karnavati importuned the assistance of Humayun, the son of Babur, her late husband's foe, by sending him a Rakhi and a request for his help as a brother. Humayun started for Chittor but couldn't reach there in time. This is the occasion for the second of the three Jauhar performed at Chittor.
Third Jauhar of Chittor happened when Emperor Akbar besieged the fort of Chittor in September 1567. Changing the strategy, Rana Udai Singh II, his sons and the royal women, using secret routes, escaped soon after the siege began. The fort was left under Jaimal Rathore and Patta Sisodiya's command. One morning, Akbar found Jaimal inspecting repairs to the fort, which had been damaged by explosives, and killed him. That same day, the Rajputs realized that defeat was certain. The Rajput women committed Jauhar on the night of February 22, 1568 AD, and the next morning, the Rajput men committed saka. (Abul Faz'l has given an account of the event as seen by Akbar in his biography in 1568 AD.)
Another Jauhar was at Raisen After this battle, Silhadi retired to his fortress in Raisen, a town just east of Bhopal and on the border of Malwa and Bundelkhand. Differences soon arose between him and his sovereign sultan Mahmood. Mahmood probably realized that Purabiyas were becoming too powerful for his safety. Sultan Mahmood planned to get rid of Purabiyas by putting Silhadi to death. Silhadi fled to Mewar and got shelter under Mewar's king Rana Ratan Singh, the son of Rana Sanga. Rana Sanga had died in 1527 soon after the battle of Khanwa. This episode speaks volumes about the chivalry of rulers of Mewar, who did not refuse shelter even to their traitor. There he opened negotiations with Bahadur Shah of Gujarat.
Soon Mewar, Gujarat and Purabiyas formed an alliance against Malwa. Rana himself did not take part in the campaign. Bahadur Shah and Silhadi together overthrew Malwa sultanate and annexed it in Gujarat Sultanate in 1531.
Before this victorious campaign, Bahadur Shah had promised to allocate Ujjain and Sarangpur to Silhadi. But now he reneged on his promise realizing that it would make Silhadi too powerful to control. Instead Bahadur Shah ordered Silhadi to handover Raisen fort and all his territory in Malwa and relocate to the town of Baroda. Bahadur Shah seemed to have learned his lessons from the fate of Silhadi's previous allies. When Silhadi refused to agree to these terms, Sultan Bahadur Shah promptly took him in captivity and along with him proceeded to Raisen fort, which was being held by Silhadi's brother Lakshman Rai. Ostensible cause of this expedition was given as to free some Muslim women in the household of Silhadi.
After months of siege, the sultan's army could not make any headway against the Raisen fort. Silhadi now tactfully convinced Bahadur Shah to send him inside the fort so that he could convince his brother to vacate the fort. Permission was granted and Silhadi went inside the fort. In an emotional family meeting, the two brothers weighed their options. Situation in the fort was hopeless because of dwindling food supply. Durgavati, Silhadi's wife who was also besieged in the fort, forcefully pleaded for Jauhar and Saka, a traditional Rajput victory-or-death stand. Martyrdom was decided upon. It can also be said that they had no other real choice. Nobody could realistically believe that Bahadur Shah really wanted to rehabilitate them in Baroda. In all probability he planned to put all Purabiyas to sword as soon as they came out of fort.
Rani Durgavati, taking her daughter-in-law (daughter of Rana Sanga) and her two children by the hand jumped into Chita, a fire-pit dug for the purpose. Seven hundred other women followed her in the Chita. Silhadi and Lakshman then armed themselves and died as consecrated warriors in a fight with sultan's army at the foot of the fort. This was in year 1532.
Rajputs Who Were Awaded Victoria Cross
Darwan Singh Negi
Darwan Singh Negi VC (November 1881 – 24 June 1950) was among the earliest Indian recipients of the Victoria Cross, the highest and most prestigious award for gallantry "in the face of the enemy" that can be awarded to British and Commonwealth forces.
He was approximately 33 years old, and a Naik in the 1st Battalion, 39th Garhwal Rifles, British Indian Army during the First World War when he performed the deeds for which he was awarded the VC. The citation reads:
His Majesty the KING-EMPEROR has been graciously pleased to approve of the grant of the Victoria Cross to the undermentioned soldier of the Indian Army for conspicuous bravery whilst serving with the Indian Army Corps, British Expeditionary Force: —
1909, Naik Darwan Sing [sic] Negi, 1st Battalion, 39th Garhwal Rifles.
For great gallantry on the night of the 23rd–24th November, near Festubert, France, when the regiment was engaged in retaking and clearing the enemy out of our trenches, and, although wounded in two places in the head, and also in the arm, being one of the first to push round each successive traverse, in the face of severe fire from bombs and rifles at the closest range.
—London Gazette, 7 December 1914.
He was awarded the medal on the same day as Khudadad Khan Minhas VC(Muslim Rajput); but the latter's VC action was of earlier date, so that he is regarded as the first Indian recipient.
He retired with the rank of subedar, the rank equivalent to a British lieutenant.
His Victoria Cross is held by his family.
Lala Ram Thakur
Lala was born at Parol, Hamirpur district, Himachal Pradesh, India in 1876.He entered the Indian Army in February 1901. He was 38 years old, and a Lance-Naik in the 41st Dogras, Indian Army, when he was awarded the VC during World War I for most conspicuous bravery.
His Majesty the KING has been graciously pleased to confer the Victoria Cross on No. 501 Lance Naik Lala, 41st Dogras, Indian Army, for most conspicuous bravery.
Finding a British officer of another regiment lying close to the enemy, he dragged him into a temporary shelter, which he himself had made, and in which he had already bandaged four wounded men. After bandaging his wounds he heard calls from the Adjutant of his own regiment who was lying in the open severely wounded. The enemy were not more than one hundred yards distant, and it seemed certain death to go out in that direction, but Lance Naik Lala insisted on going out to his Adjutant, and offered to crawl back with him on his back at once. When this was not permitted, he stripped off his own clothing to keep the wounded officer warmer, and stayed with him till just before dark, when he returned to the shelter.
After dark he carried the first wounded officer back to the main trenches, and then, returning with a stretcher, carried back his Adjutant. He set a magnificent example of courage and devotion to his officers.
—London Gazette, 13 May 1916.
He later achieved the rank of Jemadar. He died in 1927 from polio, and his last words were, "We fought true".
Gobind Singh Rathore VC
Gobind Singh Rathore VC (7 December 1887 – 9 December 1942) was a soldier in the British Indian Army, and recipient during the First World War of the Victoria Cross, the highest British and Commonwealth award for gallantry in the face of the enemy.
Govind Singh hailed from a small village named Damoi in the Nagaur district) of Rajasthan, India. He was 29 years old when he became a Lance-Daffadar in the 28th Light Cavalry. He was later attached to 2nd Lancers (Gardner's Horse) during the First World War.
The Battle of Cambrai was an all-important battle not only because it was an effort by the allied forces to break the Hindenburg Line of the Germans, but also because it was there that tanks were used successfully for the first time in the history of warfare.
On the night of 30 November and 1 December 1917 east of Pezières, France, Lance-Dafadar Gobind Singh was in the midst of the Battle of Cambrai, when his regiment was cut off and surrounded by enemy. An urgent message had to be sent to the brigade headquarters giving the position of the regiment. The route was a 6-mile stretch over open ground, under constant observation and enemy fire. Singh volunteered and not only delivered the message but also undertook a return message and a subsequent one. He survived enemy machine gun fire directed at him on all three occasions although his horse was killed every time.
For most conspicuous bravery and devotion to duty in thrice volunteering to carry messages between the regiment and Brigade Headquarters, a distance of 1½ miles over open ground which was under the observation and heavy fire of the enemy. He succeeded each time in delivering his message, although on each occasion his horse was shot and he was compelled to finish his journey on foot.
—London Gazette, 11 January 1918.
Sepoy Chatta Singh
He was about 29 years old, and a Sepoy in the 9th Bhopal Infantry, British Indian Army during the First World War when he performed the deed for which he was awarded the VC. On 13 January 1916 during the Battle of the Wadi, Mesopotamia, Sepoy Chatta Singh left cover to assist and to rescue his commanding officer, who was lying wounded and helpless in the open.
Sepoy Chatta Singh, 9th Bhopal Infantry, winning the Victoria Cross on 13 January 1916. The Tigris Front, Mesopotamia.
His Majesty the KING has been graciously pleased to award the Victoria Cross to the undermentioned ... Man: —
For most conspicuous bravery and devotion to duty in leaving cover to assist his Commanding Officer who was lying wounded and. helpless in the open. Sepoy Chatta Singh bound up the Officer's wound and then dug cover. For him with his entrenching tool, being exposed all the time to very heavy rifle fire. For five hours until nightfall he remained beside the wounded Officer, shielding him with his own body on the exposed side. He then, under cover of darkness, went back for assistance, and brought the Officer into safety.
—London Gazette, 21 June 1916.
Gabar Singh Negi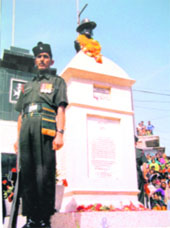 Gabar Singh Negi was born at Manjood village near Chamba, Tehri Garhwal district, Uttarakhand India. He joined The Garhwal Rifles in October 1913. On 10 March 1915, during the First World War, he was 21 years old and a Rifleman in the 2/39th Garhwal Rifles, Indian Army, when he performed the deeds at Neuve Chapelle, France which led to his being awarded the Victoria Cross.
His Majesty the KING has been graciously pleased to approve of the grant of the Victoria Cross to the undermentioned man for his conspicuous acts of bravery and devotion to duty whilst serving with the Expeditionary Force: —
No. 1685 Rifleman Gobar Sing [sic] Negi, 2nd Battalion, 39th Garhwal Rifles.
For most conspicuous bravery on 10th March, 1915, at Neuve Chapelle.
During our attack on the German position he was one of a bayonet party with bombs who entered their main trench, and was the first man to go round each traverse, driving back the enemy until they were eventually forced to surrender.
He was killed during this engagement.
—London Gazette, 28 April 1915.
His name is recorded on the Neuve-Chapelle Memorial, as Gobar Sing [sic] Negi.
The Gabar Singh Negi Fair is held annually in his memory in Chamba. In 1971, the Garhwal Rifles adopted the Fair, to give it a much-needed boost. A memorial was constructed; and with the inclusion of army traditions in the ceremonies, the Fair started attracting villagers from far and near to pay their homage to this brave soldier. Every year, on 20 or 21 April (depending on the Hindu calendar), the area around the Negi Memorial in Chamba comes alive with many kiosks being set up. This is the only fair of its kind in the state. The other feature of the fair is the recruitment rally conducted by the Garhwal Rifles Regimental Centre. "The villagers, specially the youths, attend this fair because of the recruitment rally," states Kunwar Prasoon, writer.
Prakash Singh Chib VC
Prakash Singh Chib VC (1 April 1913 – 17 February 1945) was an Indian recipient of the Victoria Cross, the highest and most prestigious award for gallantry in the face of the enemy that can be awarded to British and Commonwealth forces.
This Brave Dogra was born in the Jammu and Kashmir region of the former British India, on 1 April 1913. He was 31 years old, and a Jemadar in the 4 /13th Frontier Force Rifles, in the Indian Army during World War II when the following deed took place for which he was awarded the Victoria Cross.
On 16/17 February 1945 at Kanlan Ywathit, Burma (now Myanmar), Jemadar Prakash Singh Chib was commanding a platoon which took the main weight of fierce enemy attacks. He was wounded in both ankles and relieved of his command, but when his second-in-command was also wounded, he crawled back and took command of his unit again, directing operations and encouraging his men. He was wounded in both legs a second time but he continued to direct the defense, dragging himself from place to place by his hands. When wounded a third time and final time, he lay shouting the Dogra war-cry, "Jawala Mata Ki Jai! [Victory to Goddess Jawala!]" as he succumbed to his wounds, inspiring his company that finally drove off the enemy.
A statue of Singh was built at the village of Nud, Tehsil Akhnoor in Jammu by the Chib Community under the guidance of Raghunath Singh Chib (IAS) of village Deva Batala, Teh- Bhimbar, Dist - Mirpur (whose family is in Jammu (India). In his memory a function is celebrated every year in February. On this date Rs. 1000 (INR) is distributed to war widows (Veer Nariyan). The chairperson of this society is the Major General of 10 Div C/O 56 APO (Indian Army). His grandson, Mr. Sunil Singh, is now the President of the trust
Rajputs Who Were Awarded Paramvir Chakra
Naik Jadunath Singh (Posthumous)

Naik Jadunath Singh was born on November 21, 1916 in Shahjahanpur, Uttar Pradesh. He was enrolled in the 1 Rajput Regiment on November 21, 1941. During the Jammu & Kashmir operations in the winter of 1947, the capture of Jhangar on December 24th, by the Pakistani raiders, placed them in an advantageous position in the Naushahra sector. At a most critical stage in the battle for the defence of Naushahra, he saved his picket from being overrun by the enemy. Naik Jadunath Singh was honoured with the highest wartime gallantry medal, Param Vir Chakra, posthumously.
Company Havildar Major Piru Singh (Posthumous)
Company Havildar Major Piru Singh
Company Havildar Major Piru Singh was born on May 20, 1918 in Rajasthan. He was enrolled in the 6 Rajputana Rifles on May 20, 1936. During the Jammu & Kashmir operations in summer of 1948, Pakistani raiders mounted a strong counter offensive in the Tithwal sector. The enemy also forced the Indian Army to vacate their forward positions across river Kishanganga. After the setback, Indian troops took position on the Tithwal ridge. Havilder Major Piru Singh laid down his life, in a brave fight against the enemies, leaving for the rest of his comrades a unique example of single-handed bravery and determined courage. He was honoured with the highest wartime gallantry medal, Param Vir Chakra, posthumously.
Captain Gurbachan Singh Salaria (Posthumous)
Captain Gurbachan Singh Salaria
Captain Gurbachan Singh Salaria was born on November 29, 1935, in Gurdaspur, Punjab. He was commissioned in the 1 Gorkha Rifles on 9 June 1957. After the Belgians quit Congo, a civil war situation developed in that country. When the United Nations decided upon military intervention to retrieve the situation, India contributed a brigade of around 3000 men to the UN Force. Captain Salaria prevented the enemy from going to the roundabout thereby saving the UN Headquarters in Elizabethville from encirclement. For his extraordinary leadership and devotion to duty, Captain Gurbachan Singh Salaria was awarded the highest wartime medal, Param Vir Chakra, posthumously.
Major Shaitan Singh (Posthumous)
Major Shaitan Singh, son of Lieutenant Colonel Hem Singhji, was commissioned in the Kumaon Regiment on August 01, 1949. During the 1962 Indo-China conflict, 13 Kumaon was deployed in Chusul sector. The battalion led by Major Shaitan Singh held a crucial position at Rezang La, at a height of 5000 metres. The expected Chinese attack on Rezang La came on November 18. Unmindful of his personal safety, Major Shaitan Singh moved from one platoon post to another and encouraged his men to fight. He was mortally wounded. Shaitan Singh was awarded Param Vir Chakra, the highest wartime gallantry medal, posthumously, for his leadership and devotion to duty.
Famous Rajputs In Sports
1) Dhyan Chand Singh Bais(Hockey)
2) Milkha Singh(Athletics)
3) Ranjit Sinhji (Ranji Trophy named after him)(Cricket)
4) Rajyavardhan Singh Rathore(Shooting)
5) Mahinder Singh Dhoni(Cricket)
6) Ravinder Jadeja(Cricket)
7) RudraPratap Singh(Cricket)
8) Great Khali (Dalip Singh Rana)(Wrestling)
9) Jaspal Rana(Shooting)
10) Chetan Chauhan(Cricket)